Timely Tips for Freshmen & Sophomores
Fall is the time to start the year off right.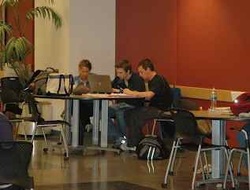 Here are some good school year resolutions:
1. Start a working relationship with your teachers. College students report that they learn more when they have a good rapport or connection with their professors. Get into the habit now! Meet with your teachers regularly. Don't wait til things have slid downhill to go for extra help. If you have a history of good grades and poor test scores, talk to your teachers on the very first day to create a strategy.
2. Follow a passion. If you love photography, take photos, join a photography club, offer to take photos for the school newspaper! If you love soccer - play soccer and keep an eye out for more ways to follow what you love – coaching younger players? Becoming a ref for middle school players? Get motivated and push yourself – that's leadership – it's what colleges like to see and it's great training for life!
3. Try something new. This is your opportunity to explore things that you didn't know you were interested in. Challenge yourself and see what happens.
4. Read. Keep some light reading by your bedside – something funny, romantic or adventurous or just plain easy. The more you read now, the better your vocabulary will be when testing time rolls around.
If you'd like to set up a freshman or sophomore session for your student, please give me a call at 201-669-0012 or shoot me an email at
Carolee@CollegeBoundGuidance.net
---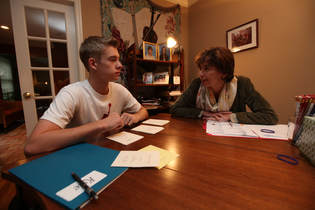 If you'd like help
​getting off to the right start in high school or have questions about the college search and application process send me an email at Carolee@CollegeBoundGuidance.netCollege Bound Guidance is located in Allendale, NJ. Services are available via Skype, email and phone.
---
Summer is the time to gain some "college knowledge."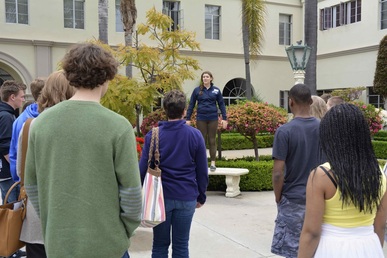 It may seem early to think about college - especially for recently graduated 8th graders who haven't even had a taste of high school yet -
but the key to avoiding college stress is to start early and proceed slowly.
I've had several parents tell me that the experience of seeing a beautiful college campus and meeting a college student tour guide was a great motivator for doing well in high school. This summer, if your student is willing, you could:
- Take an official tour of a SMALLER school. If you live in my area of NJ, you could check out Ramapo College of NJ or the beautiful Wagner campus (the backdrop of the Manhattan skyline is breathtaking!) on Staten Island?
- Take an official tour of a LARGER school (Rutgers or NYU are convenient).
If you're headed to the Jersey Shore, you might want to combine a beach outing with a stop at historic Monmouth University (Summer Home of President Woodrow Wilson!) in West Long Branch. Or, if there's an inkling of an interest in the STEM (Science, Technology, Engineering or Math) programs, you could nurture that interest with a visit to Stevens Institute of Technology in nearby Hoboken (home of the Cake Boss), NJ.
Even though summer – when students are not present - is not the optimal time to visit a school and even if your student has no intention of ever applying to any nearby colleges, your "college knowledge" will grow from seeing and comparing campuses and programs and talking to a college student tour guide. Go to the individual college's website to sign up for an official tour and information session.
If you'd like to know about colleges located at your neck of the woods, at a vacation destination, or along the way, please give me a call at 201-669-0012 or shoot me an email at Carolee@CollegeBoundGuidance.net
---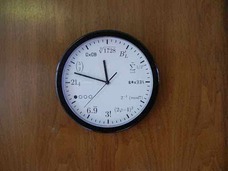 Spring is the time to learn

about upcoming tests.
---
The "New SAT" was just given for the first time last March. The College Board hopes this redesign will be a better test of high school accomplishments. That means freshmen and sophomores have some time to consider how working hard in their high school classes will help prepare them for the "New" test. Here my top tips to help young students maximize their high school education for success in college testing – and in life!
1.
Read!
Reading has always been a great way to prepare for college testing. The new SAT promises "relevant" instead of "obscure" words. So read ANYTHING. Even reading "fluff" (I prefer the term "brain candy") can help a student become more familiar with vocabulary, usage and grammar: "
The redesigned SAT will focus on relevant words, the meanings of which depend on how they're used. Students will be asked to interpret the meaning of words based on the context of the passage in which they appear. This is demanding but rewarding work. These are words that students will use throughout their lives — in high school, college, and beyond."
2.
Pay attention in history classes,
especially to "primary sources". Here's why: "
Every time students take the redesigned SAT, they will encounter an excerpt from one of the Founding Documents or a text from the ongoing Great Global Conversation about freedom, justice, and human dignity. In this way, we hope that the redesigned SAT will inspire deep engagement with texts that matter and reflect not only what is important for college and career, but what is important for citizenship here and around the world."
3.
Understand your test options.
Many colleges believe that high school grades, not test scores, are the best predictors of success in college and have declared themselves "test optional." On the flip side, stay tuned to learn more about which colleges will
require
the "optional" writing section on the New SAT.
Read more about changes to the SAT here:
https://collegereadiness.collegeboard.org/sat/inside-the-test/key-features
For more information about tests or test strategies, or if you have any questions about the college search and application process, contact me at
Carolee@CollegeBoundGuidance. net
.
For more information about college visits or if you have any questions about the college search and application process, send me an email at Carolee@CollegeBoundGuidance.net
March is the time. . .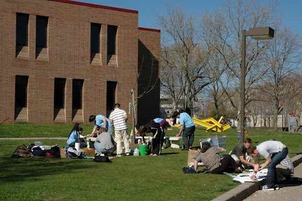 . . .to plan a first official college tour. If April break takes you out of town, you might want to think about visiting a college en route to or near your destination. Google "colleges near . . ." to get a quick list of possibilities. An "official" tour usually lasts about an hour and is led by a college student who highlights educational, social, historical and architectural aspects of the campus and college life. Parents often tell me that a student-guided campus tour has inspired their previously unmotivated student to get excited about college possibilities and even dig in to academics more seriously. Most visits can be booked directly through the college's web site.

For students heavily involved in sports or performance arts finding time to visit can be a challenge, so getting an early start is wise.

---
February is the time to think about next year's course selection.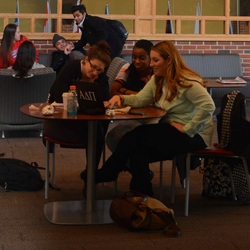 One of the first things that colleges look at is the rigor of a student's courses. That's a good reason to aim for 4 years of foreign language and challenge yourself with honors and AP or college level courses your sophomore and junior years. An even better reason to take high level courses is to get ready for college style learning. Studies indicate that students who take AP or college level classes in high school are much more likely to finish college – and to graduate in four years.

Is it better to get an A in a regular level course or a B in an AP or honors course? That's a question college deans and counselors hear all the time. According to The State of College Admissions 2011 survey, colleges say they prefer to see slightly lower grades in a rigorous program over all A's in less challenging coursework.

The best rule is for students to select courses that will truly challenge them and allow them to pursue their passions while still maintaining balance within their family and extra curricular lives.

---
Winter is the time to plan to. . . .
Make your Summer Count!
The object here is NOT to create a resume to impress colleges, but to explore you who are, take on responsibilities and start thinking about where you'd like to go in life. Pursue your passion, try something new, expand your horizons.
Start making summer plans now so you're not scrambling at the last minute.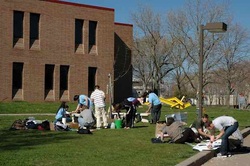 Summer is a time to explore who you are and who you would like to become. Waiting until you get to college before you begin that can cost you extra time and tuition dollars. Here are some suggestions:
Summer
programs
– apply to a program that will help you decide if a career or course of study is really for you. The best programs are often those that offer college credits. Here's a searchable list of summer programs
http://enrichmentalley.com/
. You should also check your high school guidance web page.
Internships
– can also help you explore or expand interests. Tap into family and friends that may be able to help. If you don't qualify for an internship, you may be able to find a professional who is willing to let you shadow them for a short time period.
Summer school – extra work now in a shaky area will strengthen your high school transcript and help prepare you for the rigor of college work.
Jobs – holding down a job shows – and builds - responsibility and maturity. Even babysitting or a regular stint at the local grocery store or fast food place looks great on a college resume and can give you valuable life skills and experience.
Create something
– write a play or short novel, produce a short film, build something, start a band, create a collection of photos, poems, drawings, paintings, sculptures, fashion or jewelry
Other great ways to expand your horizons include volunteering, sports camps, or travel. Make your summer count!
---
| | |
| --- | --- |
| College Bound Guidance is located in Allendale, NJ. Services are available in person and via Skype, email and phone. | |
College 101 What to do now to be sane & successful later
A webinar presented by Carolee Gravina on November 18, 2015. This session provides a primer on the college search and application process, demonstrates the benefits of beginning early, and alerts students and parents to the pitfalls along the way.
Down load it now.